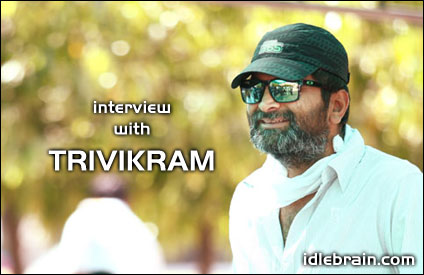 He needs no introduction….

Interest in cinema
I am from a middle class family in Bheemavaram. Cinema was the best and cheapest form of entertainment when I was a kid. I used to watch a lot of films. It was during my 10th class and when I was 14 years old, I decided to become a film director. Though my goal was to become a director, I didn't have any road map. Getting money to buy a ticket to Hyderabad from Bheemavaram was the biggest task for me in those days. I studied in Bheemavaram till my degree. Then I went to Vizag to do my M. Sc in Andhra University. I have completed my M Sc in 1 year and 3 months. I used to watch movies every day during my stay in Vizag. All this while I made sure that I didn't let my intentions of becoming director known to my parents.
I am also an avid reader. I am so addicted to books that I still get a high while reading books. I feel that book is the only thing that we interact with by keeping our ego aside. Once we keep our ego aside, we submit ourselves to the vision of the writer. We also keep ego aside when we seek information on Internet.
Searching for opportunities
I came to Hyderabad after completing post-graduation. A friend has given me a contact where I can teach tutions. I survived with the income generated by tutions and I started looking for film opportunities in the spare time. I met Kommanapalli Ganapathi Rao and he is such a kind person that he invited me in his house and gave me a cup of tea. He asked for my plans and I told him that I am a writer. I had a hand-written story called 'Road' with me. He liked it. He made me send it to the editor of Andhra Jyothy magazine. That was my first and only story published so far. He was writing dialogues for a film titled Merupu (Vikram, Anand and Kasturi), which was loosely based on 'Sleeping with enemy'. He said that I can work for the film, but the producer can't pay. I expressed my interest and started working for it. When they have shofted the shooting location to Gandipet, I couldn't go such a far distance due to lack of money. Hence I had to disassociate from that film after working for 10 days.
Actor Gowtamraju is a good friend of Sunil. Gowtam Raju took me to TVD Prasad (National Art movies) who was going to make a film titled 'Akka Bagunnava?'. Gowtam Raju asked the producer if he can help me. He said that the entire version is complete but for the climax. He has narrated the story and asked me to come up with the climax. I wrote a climax version and narrated it. Posani Krishna Murali was also one of the writers and he took a liking to the climax. After that I lost contact.
Traveling with Posani Krishna Murali
I was also writing for a film based program conducted by Gowtam Raju in ETV. Gowtamraju has connected me with Posani again when he was in Chennai. I took the remuneration of Rs. 3000/- from ETV and used it to travel to Chennai to meet Posani Krishna Murali. He was staying in Transit Guest House. He was writing for Pavitrabandham at that time. He has asked me if I knew how to write script and dialogues. I said yes like an experienced professional. In fact, I didn't know anything at all. He went into another room when he got a phone call. During that time, I looked into the script of Pavitrabandham and understood the format of writing scenes/dialogues on paper. He has narrated me the story of Pavitrabandham and asked me to come up with my own version. He is an open guy and he makes all of us readout our own versions. He adapts the best scenes if they match with the original story line. I learnt a lot from Posani Krishna Murali. Contrary to controversial image projected by him, he is a sincere and hardworking writer. He used to sit in room for days to complete his work faster. He only comes up during meals time. He used to finish writing story and dialogues in four days for big films. I used to have misconception that film writers booze and smoke cigarettes to write dialogues and scripts. All those misconceptions were proven wrong when I saw Posani Krishna Murali in action. I got the confidence that film writing is a respectable job to take up.
Posani Murali also give lot of respect to his team members. He used to introduce me as his assistant writer or associate writer to others. He introduced me to directors like EVV, Muthyala Subbayya and B Gopal. He never uses us as ghost writers. He used to pay us our salary on 30th or 31st of every month irrespective of where he is. I got a vast experience in all genres of film writing with my stint of 1 year 8 months with him. I started realising that by writing to films, I am getting away from my goal of directing films. I didn't want to become relaxed in life because I am taken care well in tutelage of Posani Krishna Murali.
I am personally against 'bhava dasyam'. By working with Posani Krishna Murali, I got an assurance that I could continue working here without doing any 'bhava dasyam'.
Swayamvaram
I used to be in the same place (I interviewed Trivikram at the place which he continue to use as office and hangout place from the time he entered Hyderabad to become a film director) and used to hangout at an Irani Chai cafe called 'Try Luck', which used to be there opposite to ETV office in Somajiguda. I used to meet Venu (actor) and Shyam (producer) at that cafe. I narrated the story of Swayamvaram to them. They believed in the story value. I have told the dialogue 'Prema ane swargam nundi 7 adugula dooramlo vunde narakame pelli' as the gist to the story. After listening to this, Vijay Bhaskar insisted that I should pen dialogues for this movie. Shyam took many risks and crossed several obstacles to produce and release the movie. It became a hit.
Nuvve Kavali
I had no interesting offers after Swayamvaram release. I went back to Bhimavaram and spent over one and half month. That is when I got a call from Sravanthi Ravi Kishore to accompany him to Madras. I went with him to Madras to buy the remake rights of Malayalam film Niram directed by Kamal. I saw the Niram film and understood the essence. I didn't want transcript of Niram as I wanted to write dialogues afresh. I used only one dialogue 'Nuvvendukuraa Naaku mundu I Love You cheppaledu' from original as it is the key scene and incorporates the essence of the movie. I added humor with the dialogues and incorporated few characters like that of Sunil. During Nuvve Kavali making, I had simultaneously penned story and dialogues for Chirunavvutho.
Nuvve Nuvve
I had narrated the script of Nuvve Nuvve during the making of Nuvve Kavali to Sravanthi Ravi Kishore. He liked the story and asked if I could direct it. I had accepted his offer but asked for more time as I needed more confidence. I directed Nuvve Nuvve film after the release of Nuvvu Naaku Nachav. I couldn't do that film the way I wanted. I was not completely satisfied with my work. I think the dialogue writer in me dominated the director in that film. However, it was a commercially successful project for the producer.
Athadu
I narrated the story of Athadu to Mahesh Babu before the start of Nuvve Nuvve shoot. Before making of Athadu, I fixed myself that I should not compromise at any cost. I wanted to make the film the way I envisioned it. I wanted to satisfy the audience in me after shooting every scene. I doubled checked each and every scene as an audience. I could able to do 80% of what I had imagined when I wrote the script. If you look at the first 15 minutes of Athadu movie, you will realise the level of intensity and technical finesse.
Jalsa
I met Pawan Kalyan during the climax of Bangaram film and narrated a story. When returning back, I narrated a characterization and a couple of scenes. He liked it better. He asked me to develop that character. As we started making the movie, the character's consistency got affected as I wanted it to be more of a romantic comedy than pursuing the character from terrorist angle. I know that there is no solution to terrorism. I made a satire on entire police vs naxalite conflict as 'evari daggara gun vunte vaadu right' (might vunnavade right). I asked Mahesh if he can give voice over to Jalsa and he did it. I never felt that there is an angle of friction till Allu Arvind jokingly told that its a big issue to get hero from one camp to do voice over for a hero from another camp.
Khaleja
Khaleja is a film that had millions of problems during production. It was stalled in between for 6 months. There was no producer for the movie for 6 months till C Kalyan took over it. Mahesh Babu and me took as a personal responsibility to complete the film and release it. I had learnt a lot of lessons during the making of Khaleja. I learnt to be unrmotional about the creative aspect of the film and concentrate on the practicality aspect from the producer point of view.
Conflicting result for Khaleja in India and overseas
Khaleja is a big hit in overseas and a flop in India. I take pride in one aspect of Khaleja. That is the consistency of character. The hero character will be doing fights, romance and comedy. But I maintained the same characterization throughout the film irrespective of what he is doing. I think it is a very difficult job for the writer to maintain that consistency. Probably, that consistency in characterization, entertainment and Mahesh Babu's craze worked in USA to become a big hit over there.
Why did Khaleja went over-budget and how come Julayi is made in pre-decided budget?
It's just the span of making that made the difference. Khaleja's working days were 135 days and Julayi's working days were 110 days. Hence there is not much of difference in working days. But Khaleja was made in a span on 2 years and Julayi was made in 6 months. The producer saves huge on interest money when the film is made in short span.
You have been labeled as an expensive director after looking at budget and making spans for films like Athadu, Jalsa and Khaleja?
As a director I want to make films that work at box office so that producer will make money as well. If you look at Shankar, he always make sure that there is always a profit margin for the producer irrespective of the vast budget. As a director I want my producers to be profitable and make many more films. Likewise, I also want to make successful films. We all work towards the single goal of success. i cant go to each and every person who claims that I am the cause of over-budgeting by telling them real reasons. For example, me and Mahesh Babu have returned 40% of our respective remunerations to the producers for Khaleja so that it could be completed and released. Nobody knows about it as we don't like telling about it outside. Did any of the producers stop making films or went out of business because they made films with me?
After my experience with Khaleja I made sure that I don't charge a penny to producer for pre-production. I did pre-production of Julayi in my office and producer is not charged for anything. If preproduction for a big film is happening at producer's office, the coffee/tea and hospitality charges for visitors and staff will come to 25 lacs and if you include interest till the release of the movie, it may go upto one crore. The people outside don't look at how that figure is arrived and they generally comment about the same. Hence I decided to have all pre-production work done at my office so that there is zero pre-production cost for the producer.
You do generally keep your film's story/scenes/dialogues secret till the movie is released. Why did you narrate story and dialogues through the theatrical trailer of Julayi?
I thought that it will be good to let the movie lovers know about the film from horse's mouth than through gossips.
Tell us about Julayi?
'laksha rupayala lottery ticketni kooda kastapadi sampadinchina okka rupayithone konali' (you have to use your hard-earnt one rupee to buy a lottery ticket that wins 1 lac) – this dialogue has the essence of the movie. We always feel that our goals are easy to achieve till we start pursuing them. You realize the difficulties as you start your journey towards the goal. There is a kodi dialogue between father and son (Tanikella and Bunny) in the trailer. There will be a retort to son from father towards the end which will serve as eye-opener.
You always have nice lyrics in your movies. How come there is the usage of word 'osey osey' in julayi song?
(laughs). That word is used to catch attention. But if you listen to the rest of the lyrics, you will find beautiful poetry and nice thoughts like "Prema pundu meeda karam petti, gunde anchukemo daaram katti, istamochinattu danne egareyyake ala ilaa". All of Julayi songs have poetic value to them.
Whats your reading on actor Allu Arjun?
There are a lot of people who think that they know everything. Allu Arjun is one of the few people who think that they don't know anything and they have to learn a lot. He is always on his toes to learn new things. He is very grounded. He knows his real stuff and doesn't get carried away by the sweet words of the people around him. He has no tantrums and he is an easy actor to work with.
You are very close to Pawan Kalyan and Mahesh Babu. Tell us your personal observations?
Both of them have terrific sense of humor and only people who are very close to them know about it.
Pawan Kalyan: A personal observation
Pawan Kalyan is a simple man who wears Lungi and Lalchi during free time. When I met him for the first time at his farmhouse, he was carrying the generator for repair along with a worker. He is a passionate reader though he is a +2 dropout. He is like a walking library. He has personally signed books of Paulo Coelho (Author of The Alchemist) and Ashok Banker (Ramayana).
When I met Pawan Kalyan during Bangaram climax, I observed an something interesting. A lady working nearby came and kept her sick baby in the hands of Pawan Kalyan. He listened to her problems carefully and called his friend Sharat Marar and asked him to take the kid to Rainbow hospital. Later on, he paid all the expenses required to get the baby to normal health.
Pawan Kalyan doesn't know the value of money. When somebody goes for help, he asks if 20 is sufficient. It's not 20 thousand, but 20 lacs. He feels that if he offers anything less, we might get offended.
Recently Pavala Syamala went to Pawan Kalyan and requested for help. He listened to her problems and he has 20k with him in the van. He gave the money to her. He called his manager after she left and asked him to deposit another 80k in her account the next day. He felt that he helped her only after giving her 1 lac. He called me and asked me if 1 lac will be sufficient for her to sustain for a couple of months.
Mahesh Babu: A personal observation
Mahesh is very jovial and a very simple guy. He doesn't care much about materialistic possessions. He used to have two shirts and two pants during Athadu time. He used only one car (Opel Astra) till he got married. It was Namrata who gifted him Mercedes Benz E Class after his wedding. Mahesh is a soft-spoken guy. He never uses cuss words. The biggest bad word he uses when he gets extremely angry is 'choosukondanyya'. When Mahesh says 'Choosukondayya', his staff get really hurt as if he scolded them heavily. I think it has a lot to do with his upbringing. He is very composed and down to earth. The best thing is that he pays for his staff and his family when they travel with him to shoot. Namrata makes the list of all personal expenses (family and staff) occurred during the shoot on monthly basis and ask the producer to deduct it from the remuneration. They take those bills and submit it to Mahesh's personal auditor. The values of people will be reflected in small issues like these.
He loves his brother Ramesh Babu very much. When Ramesh Babu was admitted in hospital in an afternoon due to typhoid fever during the shoot of Khaleja, I asked Mahesh to go to hospital and visit his brother. I told him that we can use the next day to cover up the lost time. But Mahesh insisted that we should shoot. When I started my work, I observed that his eyes were wet and his cheeks were red. I understood how much he loves his brother and how dedicated he is towards his work at the same time. I forced him to go to hospital and called for a pack-up. Occasions like these make our respect towards such persons grow at an exponential level.
You got a special recognition for your thinking pattern and dialogues right from Swayamvaram. What is the secret behind your signature entertaining and thought provoking dialogues?
It could be my interest in reading books or humorous conversations with friends. I can't point out and say that my dialogues have become popular due to this reason. Just like how a beautiful painting is made with several strokes, a skill in one person will be developed due to several factors and influences. I also feel that one's various experiences, skill and unrelenting passion towards goal make their work special. Why do people follow idlebrain.com when there are 10s of websites? That is because it is started by a person who developed a signature for himself with his work. 'picha vunna vaarini prapancham ignore cheyyadu. They always shine'. You may love them or you may hate them. You can never ignore such madly passionate people.
Reviews and mouth talk
I am also a human being and I get little disappointed when somebody criticise my work. That is the reason why I don't read reviews for at least 10 days if my film gets released. Just like I have a right to direct movie, reviewers too have a right to criticise the film. When I watch movies by other directors, I watch them as a normal audience like I did when I was studying in Bheemavaram. I don't like to ask for talk of the film. I want to enjoy the pleasure of watching film myself and make an opinion than going to a movie with a pre-conceived opinion that is influenced by others. I don't derive the sadistic pleasure when somebody speaks negatively of others movies. I never let negativity come into my life and to my movies.
Next project with Pawan Kalyan
My next project is with Pawan Kalyan and it will be an entertainer based on human relationships. Nuvvu Naaku Nachav was the last such kind of movie I had worked on. If a similar subject on human relations is enacted by a powerful and mass hero like Pawan Kalyan, the reach will be much higher. It will be a pure and prestine Telugu film on Telugu manava bandhavyalu. It's a film on Telugu padikattu (Telugu tradition). This film's shoot will start after the release of Cameraman Gangatho Rambabu.